Colt Canada/Diemaco has recently released the C7 (SA20) and C7 (SA15.7) for sale to the general public (minus the fun switch and green furniture). Anyway, the marketing team stated that their intent was to answer to the requests of LE/MIL types request to get civvie versions of their work rifles for practice on their own time. When they finally released them a few weeks ago, my wallet ran away and started to cry when the MSRPs were posted: $2,099 for the SA20 and $2,299 for the SA15.7
Anyway, not in the right tax bracket to buy a range toy for that sort of money. If it was non-restricted, I may consider it, but it probably won't happen in my lifetime that the AR will get de-restricted. I heard a little rumor that the distributors or the manufacture (Colt Canada/Diemaco) is working on some sort of discount for LE/MIL, sort of like the Individual Officer Program (IOP) that Glock had going. I may jump on that when it happens, but until then, I'm guessing that most LE/MIL probably will opt for other manufacturers such as Colt (USA), Daniel Defence, or some other brand for half the price, while the first batch of Colt Canada ARs go to military collectors with deeper pockets than me.
Anyway, I dug through my spare parts box and found a spare lower I had laying around so I decided why the heck not, had some engravings thrown on it and it turned out surprisingly close to the real deal minus the Diemaco company logo.
*Serial number has been Photo-shopped out.
I never expected to make an exact replica, but I wanted as close as possible. I think I botched the C8A2 bit, but it's close enough. Here's the real deal: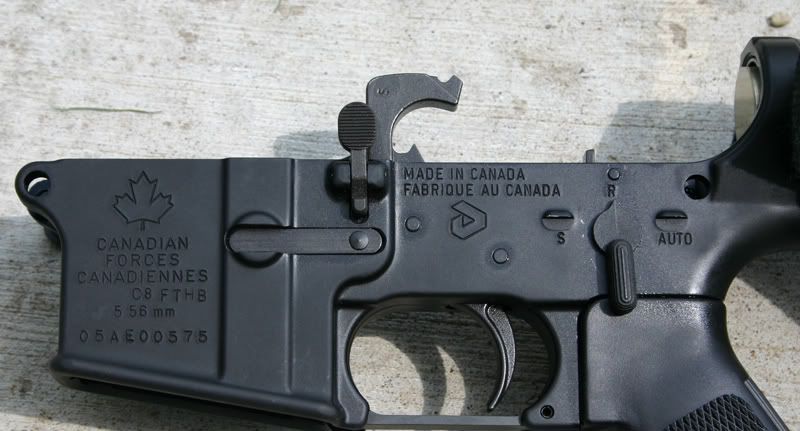 And some more pictures of mine:
Basicallt the same set up with ladder rail covers insdead of the Magpul ones.